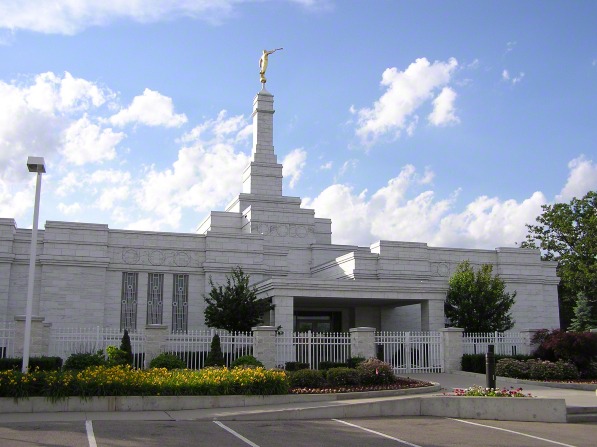 Today, we took a temple trip to Detroit- 2 hours away. We were very excited to go.
Mariah and Juliana dressed themselves in pretty skirts in their excitement for "temple day."
We packed books, balls, food, drinks, and extra clothes for the baby. On the way to the car, I realized I didn't have a temple recommend because it had been in my stolen wallet back in June!! What a disappointment!
In our church, when we are ready to make deeper covenants and commitments to the Lord, we have an interview with our Bishop (who is our pastor of our congregation/ward) and then our Stake President (who is the president over several congregations/wards within the area). Then we receive a recommend to enter the Lord's holy house which is our temple.
So, here I was without a recommend. I was sad, but at least my husband would be able to go to the temple. I decided I would wait outside the temple with the children and feel the peace of the temple on the grounds.
Everything was packed in the van, all the children were in their seats, I was in the passenger seat, and the car was running... and we waited... and waited... and waited... Abe wasn't coming out. We had to be in Detroit by a certain time, and we were rapidly running out of time!
I returned to the house and found Abe frantically looking all over his desk for his recommend. I said, "Abe, have you said a prayer?" He said he had not. I sat on the stairs and said a long prayer asking God to
please
help him to find his recommend.
I knew God already understood our situation, but I explained it to HIM anyway. In my pleading prayer I said, "Heavenly Father, there aren't too many weekends that we can drive to the temple as a family, and I already can't go into the temple this time. We're already packed. Please... can at least one of us be able to bring the blessings of temple worship to our family and into our home? Will you
please
help Abe find his recommend?"
I finished my prayer and told Abe I was going back to the van to check on the kids. I explained to the children that we had a problem finding Daddy's recommend. I started to get out of the car to go help him look some more, and there was Abe locking up the house. He had found his recommend!! He climbed in the drivers seat, and I looked at him with a big smile and said, "Did you say a prayer?"
He assured me he did and that he found his recommend before I had reached the bottom of the stairs. Jackson said he too had said a prayer seconds before Abe had walked out of the house.
I told Abe that God must have wanted him to make it to the temple today. Abe wisely responded,
"God wanted me to know HE was there."
...so true ...so true
Isn't that the whole reason HE gives us these "Daily Miracles" and "Tender Mercies?"
God wants us to know HE is there.